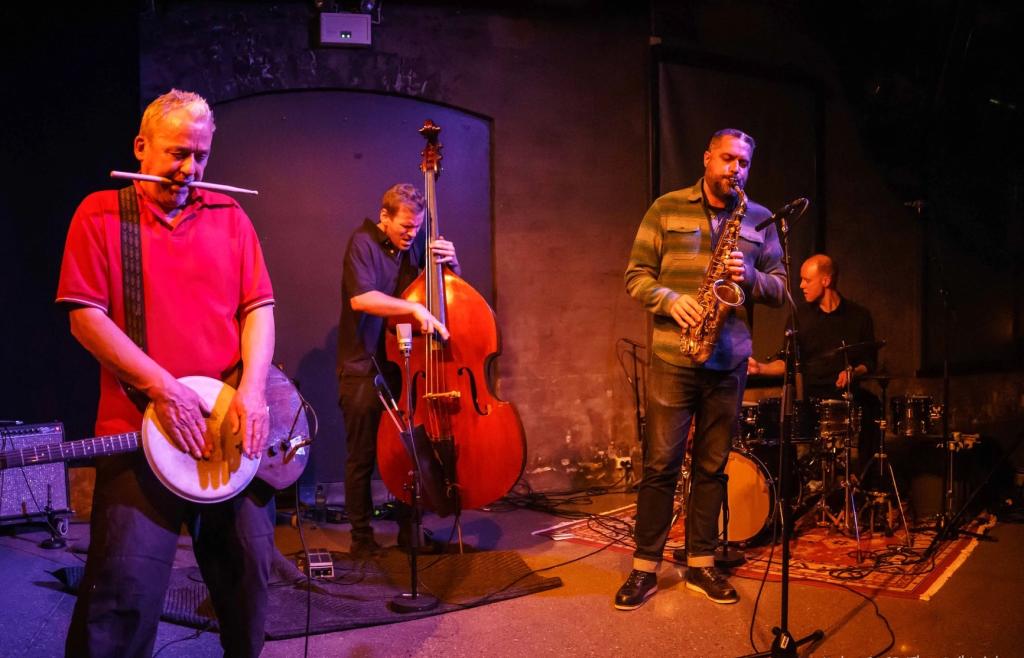 Dave Rempis - saxophones
Terrie Ex - guitar
Jon Rune Strøm - double bass
Tollef Østvang - drums
ARCHER is a new collaboration between Dave Rempis (saxophones), Terrie Ex (guitar), Jon Rune Strøm (double bass) og Tollef Østvang (drums)
Together they explore new musical landscapes at the crossroads between jazz, contemporary music, punk and noise. The music is freely improvised and highly interactive, where energy, unforeseen events and abstractions drives the music forward. Extended techniques and other distortions give the music an industrial feel.
The reputable Norwegian rhythm section consisting of Jon Rune Strøm and Tollef Østvang has for the last decade played together in bands such as Universal Indians, All Included and Friends & Neighbors. In addition, they are active in projects like Frode Gjerstad trio, Paal Nilssen-Love Large Unit and The Way Ahead.
In this quartet they have joined forces with two central figures on the improvised music scene. Dave Rempis is one of the most prominent saxophonists on the Chicago jazz scene. Rempis has collaborated with several high-profile international performers. Paul Lytton, Axel Dörner, Peter Brötzmann, Hamid Drake, Steve Swell, John Tchicai, Roscoe Mitchell, Fred Anderson and Joe McPhee to name a few. He has several times appeared on DownBeat's RisingStar list of the world's most promising saxophonists, and with an international network he has become a sought after musician in jazz, free jazz and improvisational music.
The Dutch guitarist Terrie Ex (Terrie Hessels) is a well-known voice in improvisational music, but is perhaps best known from the iconic punk band The Ex. He has also dedicated a lot of time to work with musicians from Ethiopia. Terrie's guitar playing throughout a long and diverse career has set the tone for several guitarists and other instrumentalists in a wide range of genres.